May 10, 2016 | by Ellie Hillis
She Can Fly: What's Truly Outrageous
I watched the Jem and the Holograms movie.
And I liked it.
The movie wasn't mind blowing, but it was a sincere coming-of-age story that took cues from what it means to grow up in a world where you can post videos of yourself for all the world to see in a matter of moments. The cast had better diversity than a lot of popular films, focused on the interplay of almost exclusively female characters, and played off the source material without being tied to it.
In all, it worked well as an homage to the Jem cartoon series, but took plenty of liberties to translate the material to make sense in a modern setting.
So this got me thinking: why was it so reviled?
What about this simple, sweet film made people call it "a dud," "terrible," and a "box office failure"?
Well, when you look at the numbers, Jem and the Holograms, a wide-release movie, only made 2.3 million dollars, which absolutely does make the movie a dud, and a failure at the box office. However, the movie only had a budget of $5 million. Compare that to, say, Bill Murray's Rock the Kasbah, a similarly music-themed movie that released in theaters around the same time, and you'll see that Murray's movie made only 3.2 million dollars, with a budget three times bigger to that of Jem's.
You know which movie wasn't called a "total box office failure"?
It seems to me, part of the negative reception of the Jem film, part of the reason people were so quick to dismiss and bash it, is because of a double standard in the film industry. Jem and the Holograms is female led, aimed specifically at young women, and directed by someone closely associated with dance movies, a genre that is stereotypically popular with women.
Film is already an industry well-known for it's gender inequality, and studios and audiences alike are quick to disregard films starring female characters. Usually, women in film have to embody an ideal of perfection that often doesn't make them much better than a sexy lamp.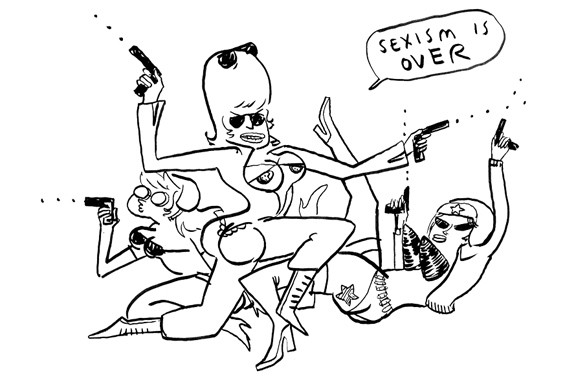 Only in the past two years have we begun to see Hollywood explore a side of women beyond the perfect (but clumsy) romcom trope and the sexy "strong female character, with some female-driven (often female written films) starring semi-realistic, more fleshed out characters who are women; characters who are free to fart and burp, be strong, be weak, have sex, abstain from sex, be tight laced, be "loose," without harsh judgement implied in the script.
But fans and critics alike judge this move harshly. Some critics even had the gall to argue that Jem and the Holograms is "implausible" and an "unrealistic representation of the music industry." (I suspect these are the same critics who might say that Wall-E is an unrealistic portrayal of the future of humanity, and that positing robots might develop autonomy is implausible.)
The other reason for it's lambast-ion is because Jem and the Holograms is not Jem the cartoon.
Fans of the seminal 80s girls cartoon were upset because the film lack glamour, glitter, fashion, and only had a small dosage of fame. And yes, it's not the 80s show; but, frankly, how could it be? But the expectation for the movie to be exactly like the show, however out of place that would have been, remained. Ultimately, fans wanted the film to fail because it wasn't the technicolored jaunt they remembered from their childhoods. Fans wanted to denounce the movie because it didn't follow the canon.
Fans are the worst.
Fans are so attached to the specific image of a character of property that they have in their mind, that they remember from their childhood; this image is so colored in nostalgia, therein lies the true fault. Fans want something from the movie that probably never really existed; fans want perfection, but only the perfection they remember.
Everybody has a favorite version of something. Heck, I'll admit I can be guilty of being too wedded to canon, too! But when canon starts to effect your enjoyment of other mediums, you allow your judgment to skew in a very specific way.
The beauty of adaptations, homages, and remakes is that they embrace what's different about the era in which the content is being made: whether it's improved graphics and CGI, restyled and revamped characters, re-imagined genders and roles, or setting the story in modern times with characters using modern technology.
Jem and the Holograms is a happily sterile movie, one without cursing or innuendo, and in the landscape of modern film, that's a rarity. Jem and the Holograms is not shy about the influence of Youtube, and uses real Youtube videos to orchestrate points (whether it be building tensions with an interspersed video of a drumming prodigy or simply involving fans by using the videos they posted online where they talk about Jem), and sometimes this comes of as passe and hokey. But at the heart of it, Jem is a sincere movie. Though cautiously gentle, and clumsy at times, the film has a sweetness to it that has been overshadowed by mainstream media and, even more so, fans.
So, if you're a fan of the Jem cartoon, maybe just pretend it's someone else named Jem who is just a little less truly outrageous than the original?